Animal Kingdom Lodge pool
The 360 pool at the Animal Kingdom lodge is themed like a little oasis in South Africa. Surrounded by palm trees the beautifully peaceful the animal Kingdom lodge pool has Zero entry on one side and so is most suitable for disabled guests.
At most times of the day you will find three lifeguards on duty to assist any swimmer the 9,000-square-foot, themed feature pool. There are views of the savannah and nestled away in the shrubbery on the side of the main pool are two warm bubbling spas. There is also a small children's play area and a children's pool as you would expect, located close to the restrooms for ease of use.
At the animal Kingdom lodge poolside, you will find a bar in keeping with the theme, complete with African style thatched roof The bar serves delicious smoothies both alcoholic and no- alcoholic- I recommend the one made with rum and fresh strawberries.
Towels are provided in the animal kingdom lodge at pool-side, so there is no need to take towels from your room or pack extra large beach towels when vacationing here. Adjacent to the pool, again neatly tucked away out of view, is a massage and fitness centre.
When the little ones have had enough of the pool, try out the animal Kingdom Lodge crèche. Called simba's club house, the crèche provides excellent childcare, with all the facilities that you would expect. They will even provide meals so that parents can have a romantic evening alone. And for the older children, check out the small amusement arcade which provides all the usual coin operated video games.
The poolside experience at the animal Kingdom lodge is a relaxing and very different to any other Disney hotel, with perhaps the exception of the Disney wilderness loge. It's a great experience for both adults and children and is a welcome rest from the tiring theme parks.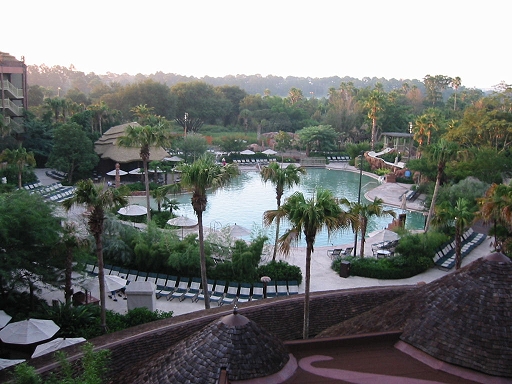 Tags: Animal Kingdom Lodge