This Animal Kingdom lodge review is to inform all those who are considering a vacation at the animal kingdom lodge or any other Disney hotel. This site contains in-depth information you will never get from a travel agent or travel brochure. Because it is based on real life experience.
One of the great things about staying at the Animal Kingdom lodge or any Disney hotel in a Disney resort, is the way they cater for children. When you consider going to visit Disney world in Florida, one of the main considerations will be costs, but when you take everything into consideration, the extra money you spend on a Disney hotel is totally worth it.
The Animal Kingdom lodge provides so many extra activities for children that it truly makes is something special. At dusk children can borrow night vision goggles and look at the animals directly from the hotel grounds onto the savannahs, to truly get an appreciation of the wildlife. There are always friendly guides on hand to explain more about animal behaviour. This is nice little touch to the after dinner experience. It's like going on a night time safari.
During the day there are often activities for the children. If it's wet, then out come the art can craft supplies and the beautiful Animal Kingdom Lodge lobby is turned into a giant crèche for the children, encouraging them to take part in new crafting projects.
Make sure to check out the notice board by the Boma restaurant for list of daily activities and there scheduled times. These are the kind of tips that no brochure tells your and it really isn't promoted that well. Our favourite craft activity was the beading classes. A wonderful selection of beautiful African beads were presented to the children for them to use to make cards, braid hair or make simple jewellery. We love beads and so this activity was particularly enjoyable.
For a more information everything in the Animal Kingdom lodge such as rooms, décor, restaurants and food extra, please check out the rest of this site.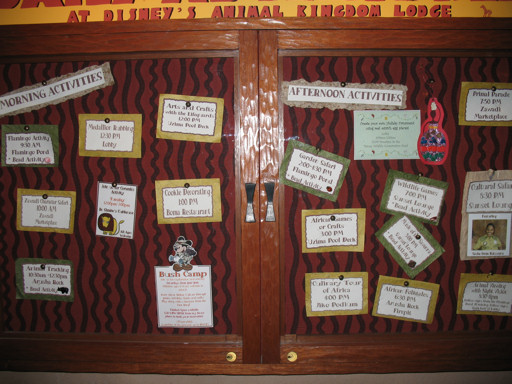 Tags: Animal Kindom Lodge Review, Animal Kingdom Lodge Children's Activities, Animal Kingdom Lodge Reviews